Firm Reorganizes to Maximize Impact in a Changing World
As Baltimore landscape architecture and urban design firm Mahan Rykiel Associates (MRA) celebrates its 35th year, it aims to increase its impact in an evolving industry and rapidly changing world. Over the last decade, the firm has worked to redefine what it means to practice landscape architecture. It has embraced the need for landscape architects to serve not only as designers of cities, parks, and places to live, work, and play but also as designers of collaborative processes and strategic partnerships. In this spirit of partnership, the firm is excited to announce new principals who join Scott Rykiel, Cathy Snellinger, Tom McGilloway, and Ken Schmidt. Together, they establish a new leadership structure that builds upon MRA's long tradition of design excellence and reinforces its transformation into an industry thought leader, tackling issues of community identity, economic development, and ecological stewardship.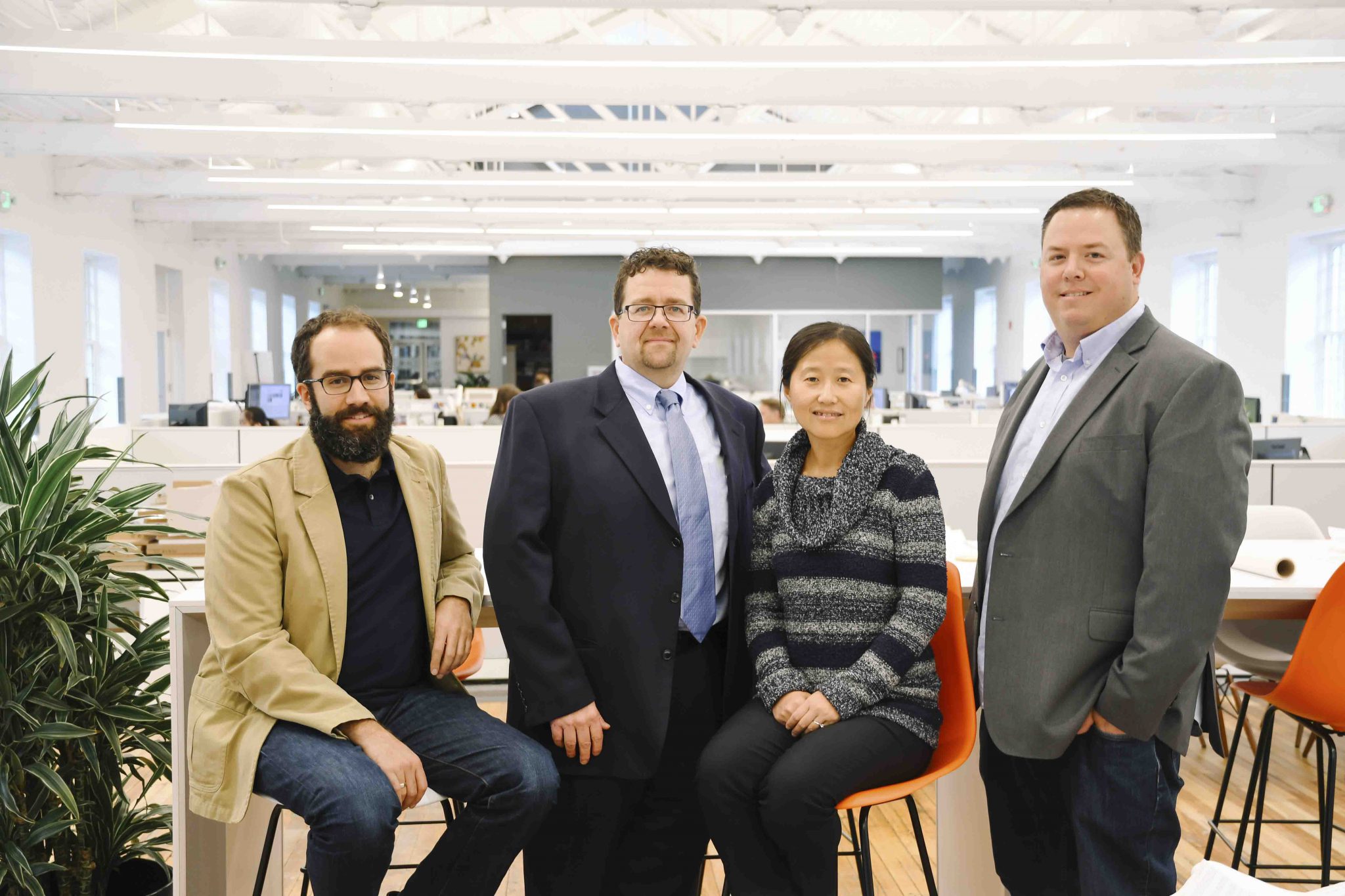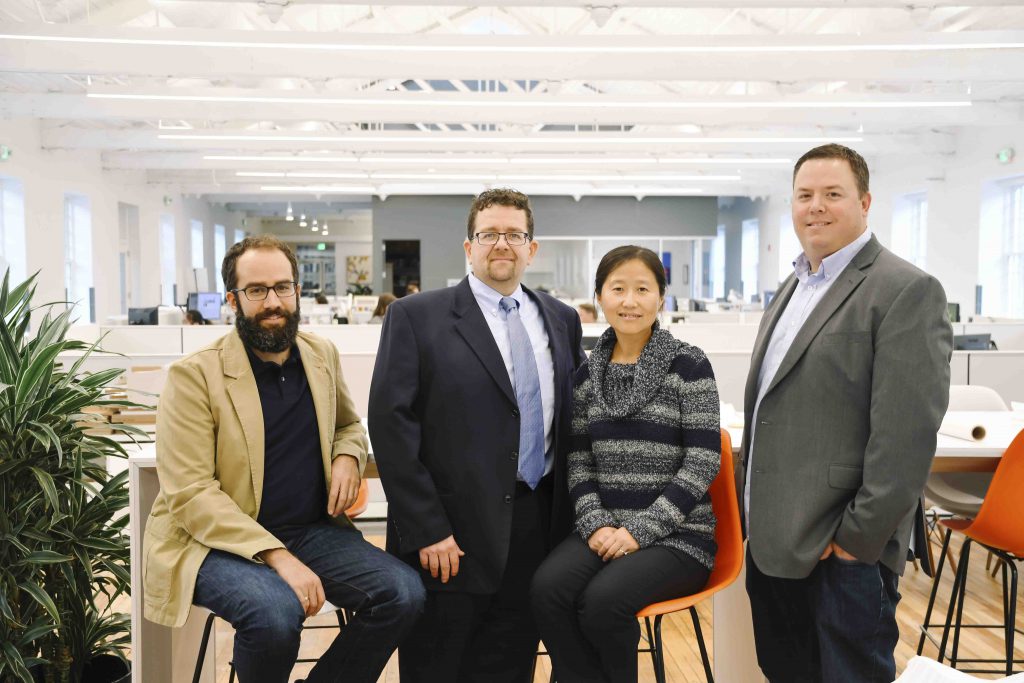 (L-R: Isaac Hametz, Mark Pelusi, Jingpeng Gu, Matt Renauld )
Jingpeng Gu Announced as President and Co-Design Director
Since joining Mahan Rykiel in 2003 Jingpeng Gu has set a new standard for design excellence in a broad range of project sectors including housing, hospitality, mixed use, parks, urban design and streetscape, and corporate landscape design.
With dual degrees in architecture and landscape architecture, Jingpeng brings a nuanced perspective to landscape architecture that celebrates the relationship between buildings and their landscapes. Jingpeng believes that landscape architecture is not only a way of resolving spatial challenges, but also a way of creating relationships between people and nature, and adding value to the built environment. Her passion is crafting spaces that are sustainable, functional, beautiful, and inspiring; landscapes that can live and breathe with people and be a part of their lives.
Over the course of 15 years at Mahan Rykiel Associates, Jingpeng has delivered dynamic, thoughtful, and award-winning projects. These projects are assets to our clients, and their communities, and serve as enduring places for people to celebrate their unique natural environments and rich cultural heritage.
Outgoing President Richard Jones comments:

"As my career heads onto a new path, MRA, too, has leaped toward a new and exciting future. I've worked side by side for over a decade with Jingpeng, and her work has been a constant source of inspiration. She is a strong leader and will transition seamlessly. As president of the firm, she will bring a wealth of experience to accomplish all of these aspirations and much more."
Matt Renauld Announced as Principal and Co-Design Director
Matt Renauld will become Co- Design Director. In this new role, Matt will work closely with Studio Leaders from across the office's market sectors including planning, infrastructure, mixed-use, parks, and campus/higher education to advance design excellence and strategic growth initiatives. Matt has worked on a broad range of project types throughout the United States and internationally that include: mixed-use/retail environments; hotels and resorts; community planning; campus planning; large-scale master planning; urban design and downtown development; and parks and recreation projects. His work has been recognized by the Maryland Chapters of ASLA and APA with numerous awards and merits. Matt's diverse experience has made him a team leader who specializes in generating "big picture" ideas and visions for projects of varying scales and complexity. Matt is a licensed landscape architect with more than 17 years of experience as a designer and project manager.
Mark Pelusi Announced as Principal and Operations Director
Mark Pelusi has over 25 years of experience practicing landscape architecture and urban design and will join Partner/CFO Cathy Snellinger in managing Mahan Rykiel's operations. Mark has managed jobs in a wide range of sectors and on numerous high-profile projects including Frank Gehry's Eisenhower Memorial, North Shore Riverfront Park in Pittsburgh, the National Museum of the United States Army, MGM Grand at National Harbor, McCormick World Headquarters and Judiciary Square in Washington, D.C. His portfolio includes major institutional, corporate, government, and private sector developments showing his ability to lead client driven projects from conceptual design through construction administration.
Isaac Hametz Announced as Principal and Research Director
Isaac Hametz will take on an expanded role in leading Mahan Rykiel's design research portfolio, building knowledge and strategic partnerships to advance innovation in landscape architecture and urban design. In this capacity he will continue to facilitate transdisciplinary collaborations among public, private, and non-profit partners; manage project-based performance specifications; integrate design research methods into office practices; and publish best management practices and firm research findings. Isaac will leverage a decade of experience working closely with clients, colleagues, and collaborators to target design research opportunities that focus on economic development, ecological stewardship, and community identity. In support of Mahan Rykiel and its partners, Isaac draws upon his background in agroecology, landscape systems, community development, and non-profit management.
Mahan Rykiel Associate's Exciting New Chapter
Co-Founder and Vice President Scott Rykiel comments:

"Mahan Rykiel is entering an exciting new chapter. For 35 years, we've been lucky to have had so many dedicated and talented people pushing the boundaries of not only our firm, but also our profession. Cathy, Tom, Ken and I are thrilled to have Jingpeng take the reins along with Matt, Mark, and Isaac and thank Richard for his leadership, vision and his impassioned work in helping build the future of MRA."
Founded in 1983, Mahan Rykiel Associates is a 36 person landscape architecture, urban design, and planning firm located in Baltimore, Maryland. The firm works across scales to imagine and realize projects that enrich the human condition and support vibrant natural systems. Research and discovery guide project development that range from public parks, civic plazas, state infrastructure, downtown and neighborhood plans, academic institutions, corporate campuses, mixed-use housing, private residences, healthcare facilities, hotels, and commercial centers.